Welcome to BLANZ SOCIETY
We are working hard to try to update our website and our facebook page.
At the moment we are working very hard to get prepared to see all of you guys at our little gathering in Denmark.

This years BLANZ Society Summermeeting will be held the same place as last year. But due to the increased interrest we can now pronounce that we have even more space for more cars available.
The BLANZ Summermeeting 2015 will be at Saturday august 15. 2015.
- it all goes down at Nr. Bjertvej 103, 6000 Kolding.

We're looking forward to seeing you.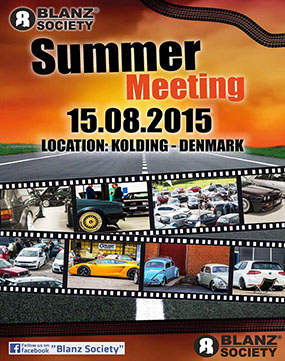 Latest news:
The upcoming season.
July 27. 2015 - by Madsen|BLANZ Crew
We're all looking forward to the BLANZ Summermeeting 2015.
This year we are proud to announce that cars from many countries will be joining our little event in Denmark
At this moment people from many groups has announced their arrival this year.
This includes cars from: Tiefenrausch, MIVW, WCC, VeeGeek, Downward, VW Home, Golf1.info, Geestyled, altblechliebe, DUB Factory, Club Golf DK, VW Society
But also many know reporters and Photographers will be at the scene. Like, Si Gray and VW Performance and World Snapshot and Boosted Magazine.

Thank you for your support!
Hope to see You all at Blanz Summer Meeting 2015 - August 15. 2015


More news...